The Lazy Environmentalist
Your Guide to Easy, Stylish, Green Living
Praise for The Lazy Environmentalist
"Why not buy the product that causes the least harm to the planet? The Lazy Environmentalist is a useful guide toward making the right decisions."
—Yvon Chouinard, Founder & Owner, Patagonia, Inc.
About the Book
The Lazy Environmentalist is a guidebook to the best of green living. The last few years have witnessed an explosion in environmental innovation cutting across nearly every industry. New designers, technologies, and companies are creating a whole new set of eco-friendly choices in the form of products and services. The Lazy Environmentalist presents these developments and explains how green living is easier, more attractive, and more convenient than ever before. The book informs readers about hundreds of specific products and services and where to get them. Chapters cover the spectrum of lifestyle with specific headings like fashion, furniture, travel, transportation, real estate, architecture and construction, and education to name but a few.
About the Author
Josh Dorfman is an environmental entrepreneur, media personality, author and communications expert. As a green business and lifestyle expert, Josh has appeared on "Morning Joe," "Fox & Friends," "Bloomberg Venture," "The Martha Stewart Show," "The Big Idea With Donnie Deutsch" and numerous other television programs. As a noted green speaker, Josh has shared his insights with companies such as Google, Pepsico, Volkswagen, Apple, Clorox, Interface Flor, and The North Face as well as institutions such as the Aspen Institute, World Science Festival, and Notre Dame University's Mendoza College of Business. He has served on Newsweek Magazine's Global Environment and Leadership Advisory Committee and is currently national spokesperson for Brita's FilterForGood campaign to reduce bottled water waste.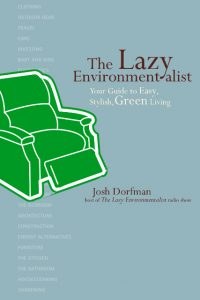 Abrams/Stewart, Tabori & Chang