Now I Know Who My Comrades Are
Voices from the Internet Underground
Praise for Now I Know Who My Comrades Are
"Parker's book Now I Know Who My Comrades Are: Voices from the Internet Underground is a rigorously researched and reported account that reads like a thriller . . . It's been a while since I have read a book that is so entertaining, not to mention one so encouraging for the culture of liberty."
—Mario Vargas Llosa, Nobel Prize–winning author of The War of the End of the World and The Time of the Hero
"The heroes of this terrific book are 'internet foot soldiers,' not the usual foreign ministers and businessmen, and those soldiers are changing Russia, China, and Cuba…and the world. Emily Parker is among the handful of most promising new foreign policy commentators who weave together culture, society and politics with hard facts and clear analysis."
—Leslie H. Gelb, President Emeritus of the Council on Foreign Relations
"Emily Parker tells us enthralling and beautifully detailed stories about bloggers and Internet activists in China, Russia, and Cuba, showing us the power of human connection even as she describes and analyzes it. The combination of her humanism and keen insight illuminates dimensions of the Internet that we so often miss, the ways it can create the personal ties and trust that are the foundation of collective action. A great read for both the nightstand and the scholar's shelf."
—Anne-Marie Slaughter, President and CEO of The New America Foundation, and Former Director of Policy Planning for the US State Department
"Now I Know Who My Comrades Are is a timely and necessary book. Story by story, Emily Parker shows how the Internet has changed lives and social realities in three oppressive countries. The clarity, honesty and intelligence of her writing make this book both admirable and enjoyable."
—Ha Jin, National Book Award-winning author of Waiting and War Trash
"In this fascinating book, Parker shows that the Internet effects politics by affecting the psychology of its users. Now I Know Who My Comrades Are demonstrates how much it can matter for citizens to have a voice, and to discover that they are not alone."
—Clay Shirky, author of Here Comes Everybody: The Power of Organizing Without Organizations
"This book is about 20 times better reported or written than any book every written about the Internet, period."
—Tim Wu, author of The Master Switch: The Rise and Fall of Information Empires
"This book is a must read for anyone interested in how the Internet and social media serve as instruments of change in societies where information has been tightly controlled by authoritarian regimes. Through a wealth of personal anecdotes enriched by judicious commentary, Emily Parker deftly shows both the possibilities and limitations of the Internet's ability to promote greater political openness."
—J. Stapleton Roy, former U.S. ambassador to China, Singapore and Indonesia
About the Book
In China, university students use the Internet to save the life of an attempted murder victim. In Cuba, authorities unsuccessfully try to silence an online critic by sowing seeds of distrust in her marriage. And in Russia, a lone blogger rises to become one of the most prominent opposition figures since the fall of the Soviet Union.
Authoritarian governments try to isolate individuals from one another, but in the age of social media this is impossible to do. Online, people discover that they are not alone. As one blogger put it, "Now I know who my comrades are."
In her groundbreaking book, Now I Know Who My Comrades Are: Voices from the Internet Underground, Emily Parker, formerly a State Department policy advisor, writer at The Wall Street Journal and editor at The New York Times, provides on-the-ground accounts of how the Internet is transforming lives in China, Cuba, and Russia.
In 2011 ordinary Egyptians, many armed with little more than social media and mobile phones, helped topple a thirty-year-old dictatorship. But those citizen networks did not form overnight. Now I Know Who My Comrades Are explores the next major battlegrounds between the Internet and state control.
Parker, after years of steadfast reporting, provides keen insights into the thinking of those who dare to challenge authority online. With detailed, novelistic prose, this book brings you to the streets of Beijing, Havana and Moscow.
Star dissidents like Cuba's Yoani Sánchez and China's Ai Weiwei are well-known. Here you'll also find less spotlighted bloggers, as well as the back stories of Internet celebrities. Parker charts the rise of Russia's Alexey Navalny as he transitioned from an ordinary blogger to one of the greatest threats to Vladimir Putin's regime.
This book introduces us to an army of bloggers and tweeters—the generals and foot soldiers alike. They write in code to outsmart censors and launch online campaigns to get their friends out of jail. They refuse to be intimidated by surveillance cameras or citizen informers. Even as they navigate the risks of authoritarian life, they feel free. Now I Know Who My Comrades Are is their story.
About the Author
Emily Parker is the digital diplomacy adviser and a senior fellow at the New America Foundation. Previously, she was a member of Secretary Clinton's Policy Planning staff at the State Department, where she covered twenty-first-century statecraft, innovation, and technology. Before joining the State Department, she was an op-ed editor at The New York Times and an editorial writer and op-ed editor at The Wall Street Journal.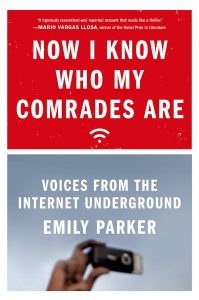 Sarah Crichton Books/Farrar, Straus and Giroux